For a long while since the nascence of Formula 1 in 1950, the vast majority of drivers in the paddock were of European origin. Occasionally you would see a fresh-faced driver of Asian or Arab descent, but considering all the teams in the sport were from Europe such people were few and far between. As time has passed we have seen drivers from all four corners of the Earth grace a Formula 1 racing circuit, covering 6 of the 7 continents (we are yet to bear witness to an Antarctic F1 star…). Of course there are many countries in the world which are yet to produce a talented driver good enough for the pinnacle of motorsport, but there are 8 nations which as of January 2022 have only mustered a single Formula 1 driver to date.
This number up until very recently was 9, but the inclusion of Alexander Albon in the 2019 F1 World Championship upped the number of Thai F1 drivers to 2 (after Birabongse Bhanudej from 1950-1954). Furthermore, Guanyu Zhou will be the first ever driver racing under a Chinese license to race in F1 but until the season opener in Bahrain he will be omitted from this list.
1. Robert Kubica – Poland
It's almost difficult to believe that Robert Kubica is the only driver in F1 to ever hail from Poland. I say this because being such a world-class motorist you would expect more Poles to rise up to his standard in his wake.
Kubica is the only race winner on this list, having taken a heart-warming victory at the 2008 Canadian Grand Prix, a year on from a horrifying crash at the same circuit which put him on the side-lines for 2 further races. He has another 11 podiums to his name, racing for various midfield teams such as BMW Sauber and Renault.
After yet another life-threatening accident while rallying in 2011, Kubica returned to F1 in 2019 for a full-time race seat with Williams. Due to the poor quality of the machinery beneath him he had a season to forget, and many newer fans don't regard the Pole with the highest of esteem. This I believe is terribly unfair; many have simply forgotten what an incredible F1 pilot Robert was.
2. Eliseo Salazar – Chile
Eliseo Salazar of Chile was helped up the motoring ladder by fellow South American and 3-time World Champion Nelson Piquet. While only having a single Drivers' crown in 1982, Salazar still held his mentor in extremely high regard.
This made it all the more awkward when at the German Grand Prix, the pair collided as Piquet attempted to lap Eliseo in the slower ATS outfit. A fist fight ensued, which I recommend you watch as it's quite funny seeing their big helmet heads bobbing around! (https://www.youtube.com/watch?v=dCPAKVm7-po).
The Chilean managed 3 seasons in Formula 1, and did decently well to scramble together 3 points in total while driving for various backmarker teams. His best result was 5th place at the 1982 San Marino Grand Prix where he drove for ATS. A few rounds into the 1983 season Salazar ran out of money due to a financial crisis in his home country, and he never returned to the sport again.
3. Tomáš Enge – Czech Republic
Enge was thrust into the world of Formula 1 unexpectedly after Prost's main driver, Luciano Burti, was injured in a crash at Spa. With only three races left of the 2001 season, the Czech driver didn't have many opportunities to prove himself worthy of a permanent seat in F1, and in the end he was unable to win over the hearts of any of the team principals watching from the pitlane.
He managed two finishes (both outside the points) and a retirement at the season finale in Japan. With Prost declaring bankruptcy at the end of the campaign Tomas' F1 dream, however brief, was over.
4. Rikky von Opel – Liechtenstein
Rikky von Opel has quite a unique and interesting story completely unrelated to Formula 1. First of all, he's not actually from Liechtenstein, instead coming from a country which has produced several World Champions in the past, Germany.
Perhaps wanting to forge a path completely of his own, he chose to get his FIA Superlicense as a Liechtensteiner rather than as a German. However he insisted that they use the German national anthem rather than that of Liechtenstein were he to win a race.
This was never to be, however, as von Opel participated in 14 Grand Prix and failed to score a point let alone a podium or race win. At one point he was drafted into a Brabham BT44 for part of the 1974 season. Despite the BT44 being a relatively quick vehicle (teammate Carlos Reutemann managed two race victories), von Opel could only manage a best finish of 9th on 2 occasions and even failed to qualify 2 times. He was dropped in favour of Carlos Pace for the remainder of the season.
Soon after the end of his racing career he disappeared off to rural Thailand to become a monk, and no one apart from a select few family members or friends have heard from him since. As long as he's happy…
5. Zsolt Baumgartner – Hungary
To date the only Hungarian to participate in Formula 1, looking back at Baumgartner's road to the top echelon of motorsports it's clear to see he had an extremely lucky break. He had barely managed any points at all in the F3000 category after 3 seasons at the second tier before being hastily drafted in to the Jordan team to replace the injured Ralph Firman.
Once Firman recovered it was game over for Zsolt, but despite taking a hit in sponsorship money he signed with Minardi for the 2004 season. There he managed to get Minardi's first points in 2 years, with a 6th place finish at the United States Grand Prix. Unfortunately this wasn't good enough for team boss Paul Stoddart to consider keeping the Hungarian for what turned out to be Minardi's final season in F1.
6. Robert La Caze – Morocco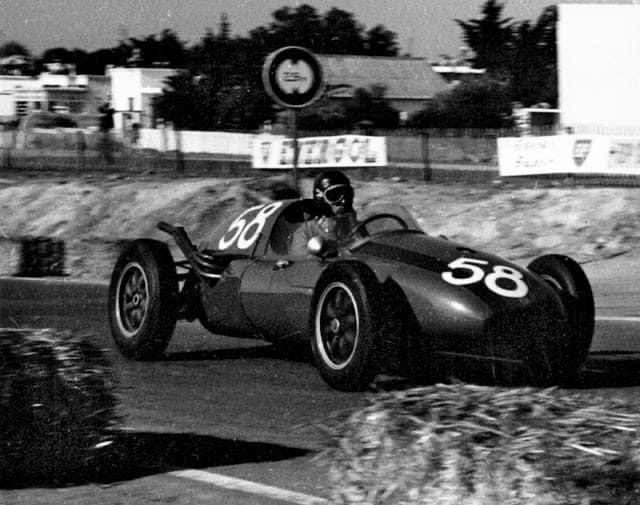 Living in Morocco meant there wasn't much opportunity to race in Formula 1, But Robert La Caze nevertheless had racing in his veins. The F1 grid came to Morocco for the first time in 1957 but only permitted entries by F1-spec vehicles, much to the chagrin of a few local racers.
When the paddock returned the following year, the rules were changed to allow cars under F2 specifications to also participate. This was the chance that La Caze was hoping for. He qualified in 23rd and finished in 14th.
But I assume his elation was cut short upon hearing of the tragic death of fellow participant Stuart Lewis-Evans who crashed earlier in the race. The Ain-Diab circuit proved to be a dangerous one, as another driver by the name of Francois Picard was seriously injured and didn't race again due to his injuries.
7. Alex Yoong – Malaysia
Throughout the 2001 season, Minardi were running very low on funds, and so were left with no choice other than to replace Tarso Marques with Malaysian driver Alex Yoong for the final three rounds of the campaign.
His financial backing from a national gambling corporation kept Minardi afloat and he was retained alongside rookie Mark Webber for 2002. But Yoong was markedly off the pace for the whole season. It started well with a 7th place finish in Australia, which at the time was just outside the points.
Unlike Mark Webber, Yoong failed to qualify on three instances due to posting a lap time which was slower than the 107% cut-off. Partly due to his poor race craft and partly due to a falling out with the team over pay, Yoong left F1, admitting that his involvement didn't have any impact in furthering the sport in Malaysia.
8. Rio Haryanto – Indonesia
Rio Haryanto is the most recent addition to this list. He took part in 12 of the 21 races of the 2016 World Championship. There is no doubt that Haryanto was brought into the struggling Manor outfit to secure extra funds to keep the team running.
He was very slow indeed, rarely putting up a fight in terms of outright pace compared to teammate Pascal Wehrlein. When money from his sponsors stopped arriving, the British team had no reason to retain him and swapped him for Esteban Ocon for the remaining 9 races of the season. His best finishing position was 15th at Monaco, albeit last of the finishers and 4 laps down.