As we begin to crawl out of the horrible, murky and seemingly never-ending tunnel that is coronavirus, we can reflect with fondness on the last 2 years of covid-affected F1 seasons. Amidst the darkness and despair of being confined for long periods of the year, sport has been a shining glimmer of hope and excitement for many of us around the world. For the majority of you reading this, said sport will probably have been Formula 1. That blast of adrenaline you got whenever an intense battle for the lead was taking place and the eyes-widening, sparkling feeling of euphoria you had when your favourite driver took a surprise podium or victory may have added a sense of emotional meaning to your life in what was, for a lot of us, a mundane period of existence.
The 2020 season got off to a shaky start by… well… not starting at all with the cancellation of the Australian Grand Prix. We were all very uncertain about the severity and magnitude of the virus at the time and I think most fans were itching for any sort of F1 race, let alone a whole season. When the teams finally arrived in Austria, I don't think there had ever been this much anticipation for the start of a new season. It was quite an exhilarating race too, with a whopping 9 retirements (I remember being genuinely hopeful for Williams to get their first points in almost a year, but Latifi ended up being last of the finishers in 11th) and my personal highlight being Lando Norris snatching a podium finish from Hamilton with a phenomenal final lap bringing him to within 5 seconds from Lewis who had received a 5-second time penalty for spinning out Alexander Albon earlier.
However, I think a few die-hard fans out there knew right from the get-go that from a competitive point-of-view, 2020 was going to be a season to forget. The qualifying session for the Austrian Grand Prix showed that the Mercedes cars were at least half a second faster than Max Verstappen who qualified third. Despite this being in the rain, a lot of people out there knew that Mercedes were most likely going to run away with all the trophies once again. To be fair, they had managed to build a monstrously good car; while the Red Bulls looked squirrely at the rear end from first practice and the Ferraris were nowhere near 2019 levels, the W11 seemed to be on rails even in the wet. Apart from a couple of outstanding exceptions, namely Gasly's victory for Alpha Tauri at their home in Monza and Sergio Perez's mind-boggling last to first drive at the second race in Bahrain, 2020 was a walk in the park for Toto Wolff and company. They won 13 out of 17 races, the Constructors breaking the record for the most consecutive titles and Lewis Hamilton matching Michael Schumacher's record of 7 World Championships with 3 races still left on the shortened calendar.
So I think a lot of us were going into the 2021 season with much reduced expectations; with the news that the new regulations would be coming into play in 2022, we expected that no teams would be putting much R&D into their cars for this season so performances would be pretty much unchanged. Boy were we wrong. This season has seen so many ups and downs for most of the drivers that it would make a rollercoaster jealous! With just 3 races still left on the calendar, both the Drivers and Constructors Championships hang in the balance. In my opinion this season, no matter the outcome, will be revered for years to come as one of the best.
So what constitutes a good Formula 1 season? If we look at just the last 2 decades, a poll would conclude that 2010, 2012 and maybe 2003 would be the most entertaining. These 3 have several key factors in common, such as championship battles going down to the final race, unexpected results from underdog teams and nail-biting individual races. 2010 saw 5 drivers in contention for the title at the final race, 2012 had 7 different winners in the first 7 races and 2003 was a refreshing three-way battle between Schumacher, Raikkonen and Montoya after three straight years of Ferrari dominance. Now let us have a look at how F1 2021 qualifies under these criteria:
Tight Championship Battles: With just Qatar, Saudi Arabia and UAE left to race at, the points gap between Max Verstappen in first and Lewis Hamilton in second stands at just 14 points. And it's not like it's always been that way round either. Lewis has been in the lead coming into 7 of the 19 races this season and after his display at Interlagos, it looks like he has the slightly better package with 3 races left compared to Max. Furthermore, just 11 points separates Red Bull from Mercedes in the Constructors, with the latter holding the slim lead. Unlike some seasons in the past decade such as 2014 and 2020, it has been and still is very difficult to accurately predict who will take the ultimate crown this year, which builds the anticipation for upcoming races.
Unexpected Results: We've had 2 fantastic wins from teams other than the dominant Mercedes and Red Bulls, being Esteban Ocon in Hungary and Daniel Ricciardo at Monza. But it wasn't just the wins, there were also brilliant podiums from Sebastian Vettel in the disappointing package that is Aston Martin and George Russell's spell-binding second-place "finish" at the 2-lap Spa-Francorchamps "race". Also might as well include Pierre Gasly's 3rd at Baku, although his remarkable consistency almost deserves a yearly podium at this rate.
Amazing Races: As the championship has heated up, we have seen some absolutely heart-in-mouth moments on track as well as some scintillating drives and overtakes in the past 19 races. We tend to enjoy a boiling over of tensions and emotions, and we have seen such situations a handful of times between Hamilton and Verstappen. Hamilton crashing out Verstappen at Silverstone, their coming together at Monza and most recently Max forcing Hamilton suspiciously off-track at Interlagos come to mind. The Azerbaijan Grand Prix was positively crazy, with the two previously mentioned title contenders both taking themselves out of contention with barely any of the race left to go, allowing Perez to take his first and so far only win of the season. You know a season is exciting when even Sochi manages to be a great race!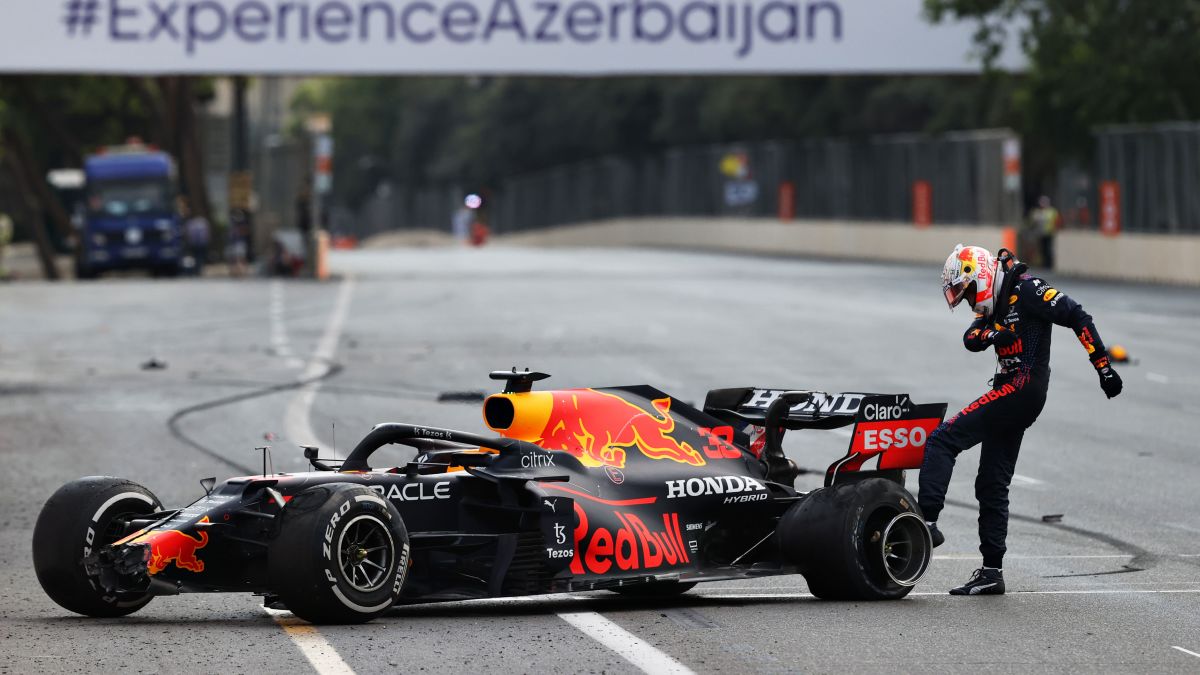 So emotions run high as we reach the conclusion of the longest ever season in F1. Who will win? Will it be the experienced, established veteran that is Lewis Hamilton, or will Max Verstappen, the young once-in-a-generation talent, snatch the World title that Lewis so desperately needs to surpass Schumacher to become the best ever? I guess we will have to wait and see!